5 things to look for in a B2B cross-border payments partner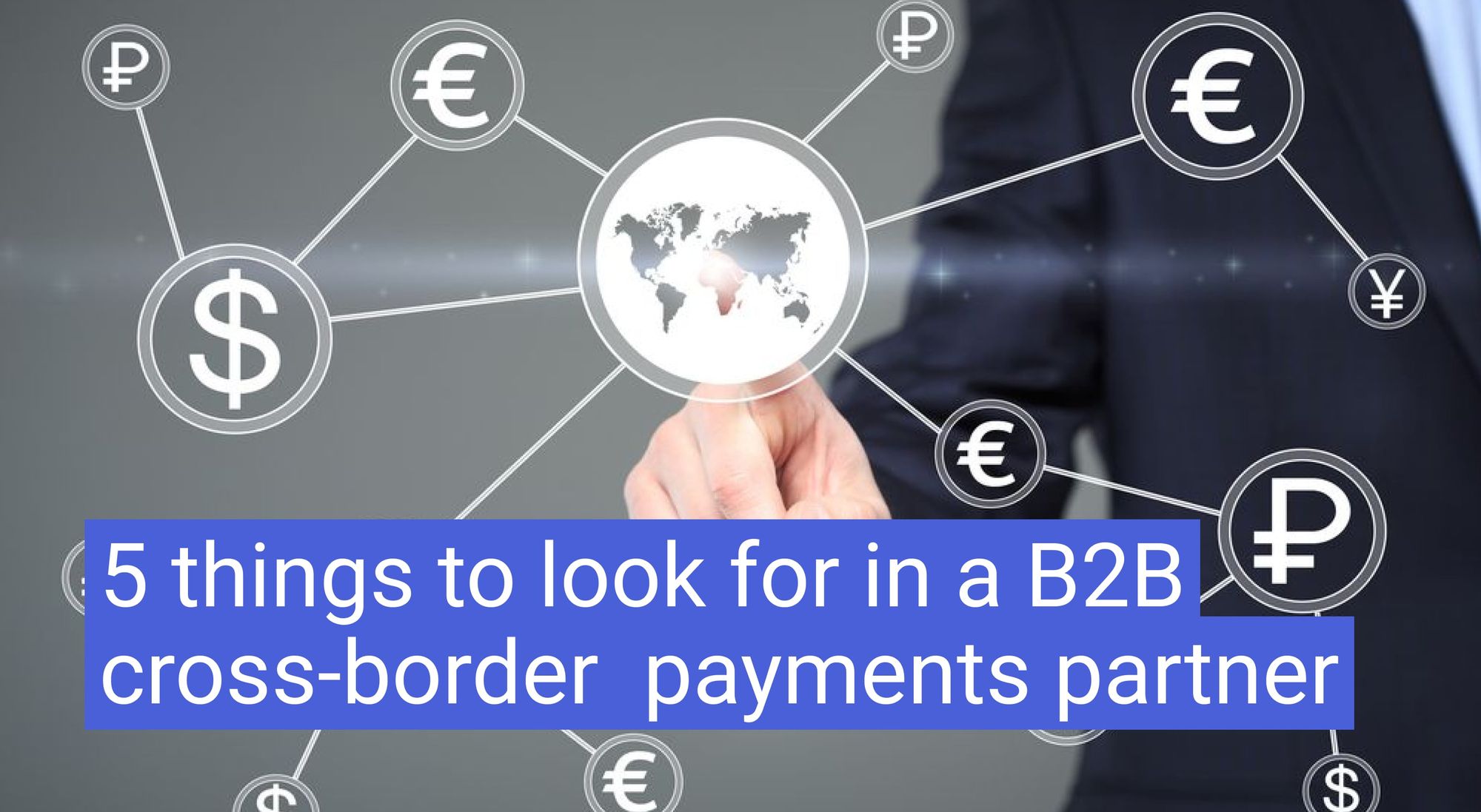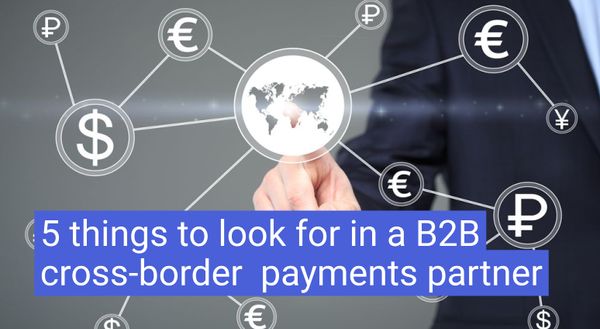 B2B payments are payments made from one business to another. Traditionally, they were made using cash or cheques, but the shift to online has meant that the more and more B2B payments today are done digitally. Thanks to online B2B payments companies, sending a receiving international payments has become a more automated, seamless experience.
Choosing the right cross-border B2B payments partner is important for businesses looking to access new markets and scale quickly. Here are five things to consider when searching for a partner.
Access
Your cross-border B2B partner should be able to support both local and global payments. This includes payments within a country using local payment rails, as well as FX services converting between different currencies. Ideal partners would offer additional services on top of international payments, for example access to a local banking license, virtual bank accounts and FX liquidity.
Affordability
The maths need to work. Does the B2B partner operate a SaaS model based on a platform or subscription fee? Or do they charge on a transaction/volume basis? What sort of FX margin are they charging and is the pricing structure transparent? Run the numbers and decide if the pricing model makes economic sense for your business.
Tech
New systems should not require a lot of extra work. Look for B2B partners with a single API integration and hands-on tech support. A user-friendly sandbox environment will ensure that you have a good understanding of the system prior to committing to integration. B2B payments have to undergo necessary compliance processes, such as checking for possible money laundering, screening against sanctions lists, and being put through reporting requirements. And API that can automate these processes and has embedded compliance and governance features is ideal.
Speed
Businesses of all sizes across the global expect to have their payments in real-time. B2B partners that have access to instant payment rails and can ensure on-time funds delivery speeds are needed to keep up with the pace of international business. Companies looking to scale quickly cannot afford to waste time searching for lost payments or have the negative customer experience that comes with delayed payments.
B2B partners are increasingly employing blockchain technology to deliver improved transaction speeds and reduce the costs associated with transfers. Those partners offering blockchain-enabled payment gateways for cross-border transactions will have the fastest settlement times and likely the lowest transaction costs.
Connectivity
One way that fintechs have been able to make B2B cross-border payments cheaper and faster is by establishing back-end payment rails that aren't reliant on the correspondent banking network. By building connectivity through more direct, multilateral relationship structures between financial institutions, B2B payments providers are able to overcome the restrictions of the incumbent correspondent bank system. For businesses, this means more efficiency and optionality for cross-border transactions. When evaluating a potential B2B partner, check what sort of international connectivity they have to provide services that aren't reliant on traditional, intermediary banks.
Can you have it all?
Finding a single B2B partner for all your cross-border payment needs is unlikely. Instead, you may discover that it's more beneficial to have different B2B payments partners for certain jurisdictions or markets.
Flash Payments is a B2B payments provider specialising in Australia. As the local payments partner of choice for hundreds of global financial institutions, we help our partners with domestic and international payments, FX liquidity, as well as local banking.
Unlike other providers in Australia, we offer clients the option of either API or blockchain-supported FX payments. Our unique local banking setup allows us to issue partners with virtual accounts and sub-accounts, enabling us to provide local AUD collection services.
A truly white-labelled solution, we empower global businesses to scale quickly and seamlessly into the Australian market without their clients being aware of Flash Payments in the background. Our smart API technology is equipped with embedded compliance and governance functions, and is secured with top-level encryption to protect data and funds.