Fintechs and banks: competitors or allies?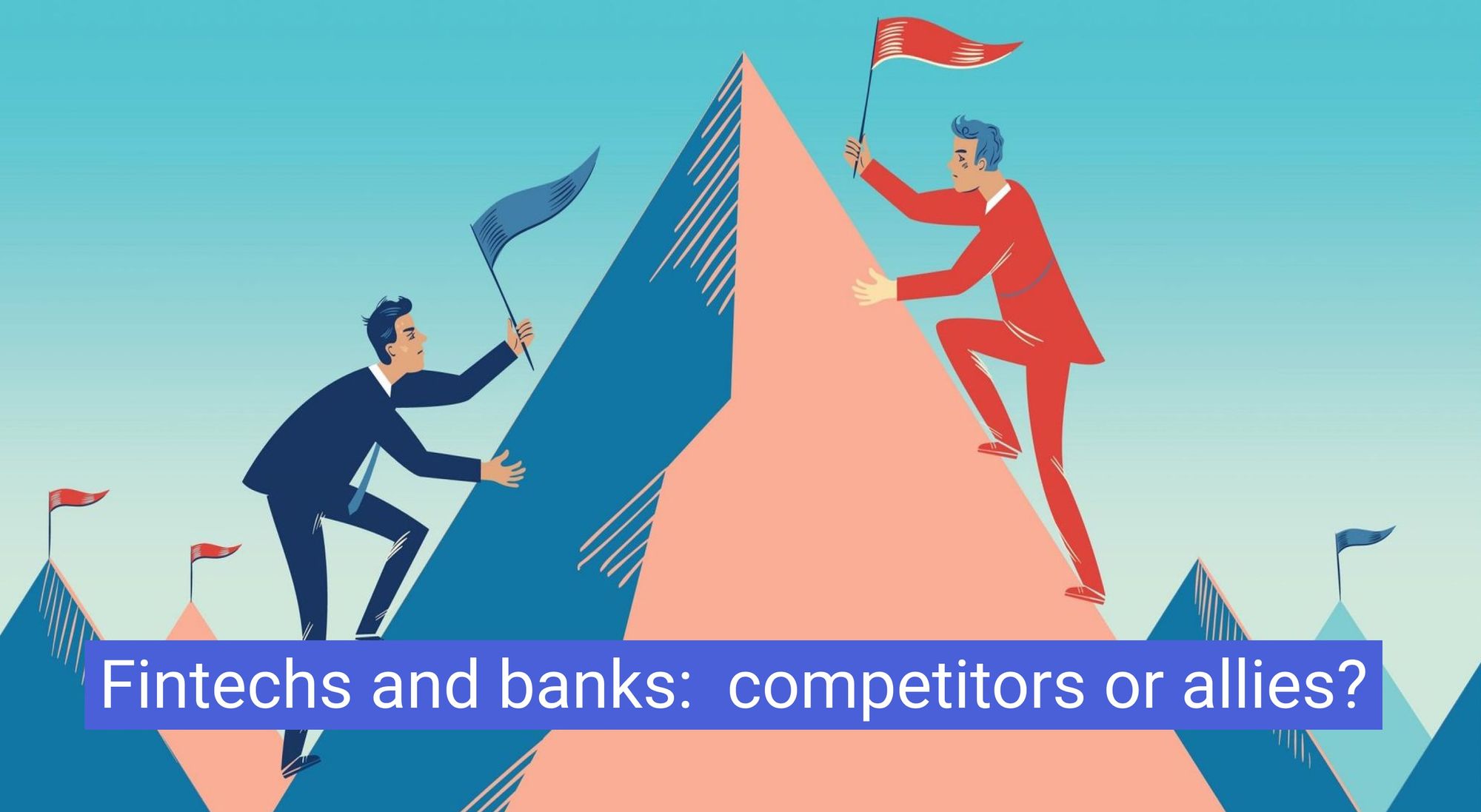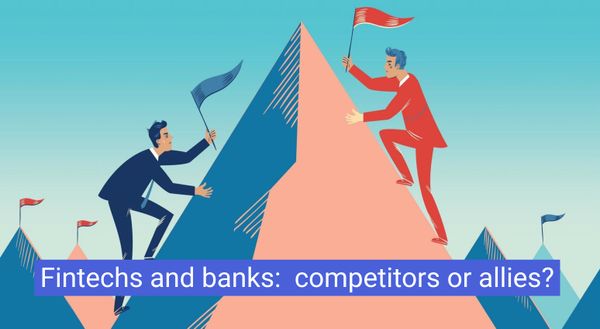 Fintechs are leveraging technology to deliver innovative financial solutions that challenge the traditional banking model. But the relationship between the two sides is complex and multifaceted. While there are areas of competition, there are also many opportunities for partnership and collaboration.
Fintechs vs Traditional Banks
'Fintech' is a combination of the words 'finance' and 'technology'. It's a term used to describe the use of technology that is meant to improve or automate the delivery of financial services or products. Fintech began in the 1990s when the world of eCommerce was in its infancy.
Today, fintech has shifted towards consumer-focused financial services including retail banking, investment management, cryptocurrency, peer-to-peer payments, education and more. Though it occupies a relatively small share of the world's banking system, fintech's success lies in how it stands out from traditional banks:
Reliance on the latest technology: Banks continue to rely on legacy infrastructure that is slow to adapt to changing consumer needs
Personalised customer experiences: Banks cater to a wide range of customers and offer multiple products, where as fintechs are more specialised
Fewer regulatory hurdles
Greater market penetration: Fintech technology is distributed across a wide digital network and not dependant on physical locations
A partnership opportunity?
As the fintech market matures, the case for more collaboration between the two sides becomes stronger. Like two pieces in a jigsaw, they can complement each other to provide new-age solutions to real-world needs. For example, fintechs stand to benefit from the banks' legitimacy and access to capital for accelerated growth while banks can leverage fintechs' advance technology to meet changing consumer expectations and improve existing services.
Fintechs have proven that they can be a strategic ally to the traditional banking sector in several ways. In the past, banks have typically had to build new technology from scratch, or relied on a few, core providers. More and more, fintechs are beginning to serve as technology vendors to banks to help them reach more consumers without a full technology build. For example, many payment fintechs are now offering 'white-label' solutions to banks that help them broaden and improve their existing payment capabilities at a significantly reduced cost. Fintechs are also helping banks enhance their bank-office capabilities, including account opening and security, by developing software solutions to assist with identifying fraud.
While fintechs are providing a number of back-end solutions, partnerships are also forming in the front-end where banks are providing a service to the fintech's customer base. This includes things like making loans and mobile banking.
Map of Fintechs providing banking services, thru banks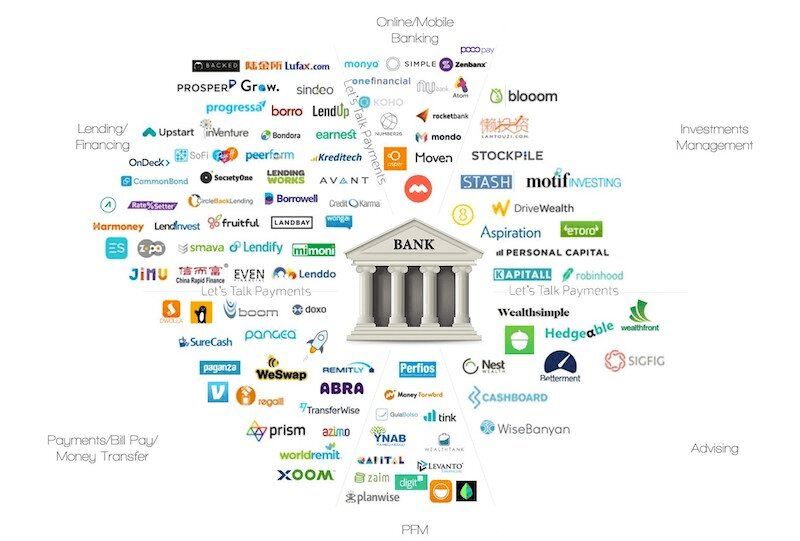 Source: Medici
Or a rivalry?
Although fintechs can be seen as potential allies with banks, overwhelming they are still viewed as rivals. This is because customers are finding that they offer more convenient, cheaper and faster services than banks. The technology-first approach of fintechs means that their solutions are designed to reduce friction and meet the digital demands of the consumer. Fintech may have a small share in the world banking system, but consumers are increasingly opting to use it as a substitute to banks.
According to Statista, between 2015 and 2019, consumer adoption of fintech companies and products grew rapidly worldwide. By 2019, 75% of consumers globally started using some form of money transfer and/or payment service. And in some countries, like China, 90% of citizens use fintech banking, payment, and financial management solutions.
Fintech adoption rates by country: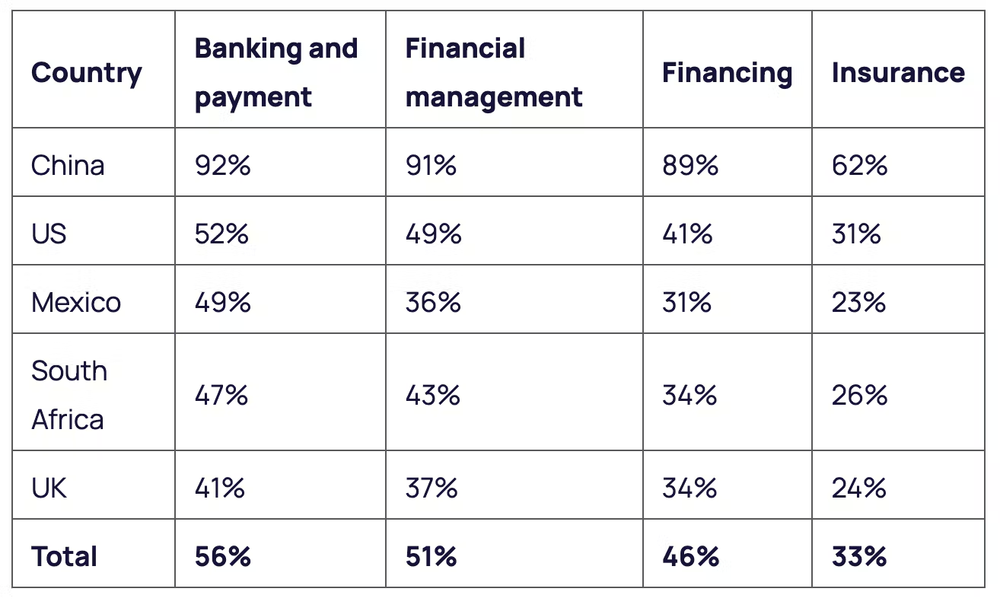 Source: Statistica
Conclusion
By providing services that financial institutions do less effectively or don't do all, fintechs are introducing more competition in financial markets. Improving efficency in traditional banking functions is a win for consumers, but there still exists a tension around the sustainability of the fintech model.
Banks are also adapting to the rise of fintechs as they struggle to remain relevant to their consumers. To meet the technological demands that consumers have today, banks are embracing fintech features to improve user experience. As the whole finance system continues to evolve, allocating resources for digital agility is increasingly a priority for banks.
A win-win situation for both banks and fintechs is long-term partnerships that combine innovation (fintech) and support and trust (banks) to build the sector for the digital future.