Understanding Digital Wallets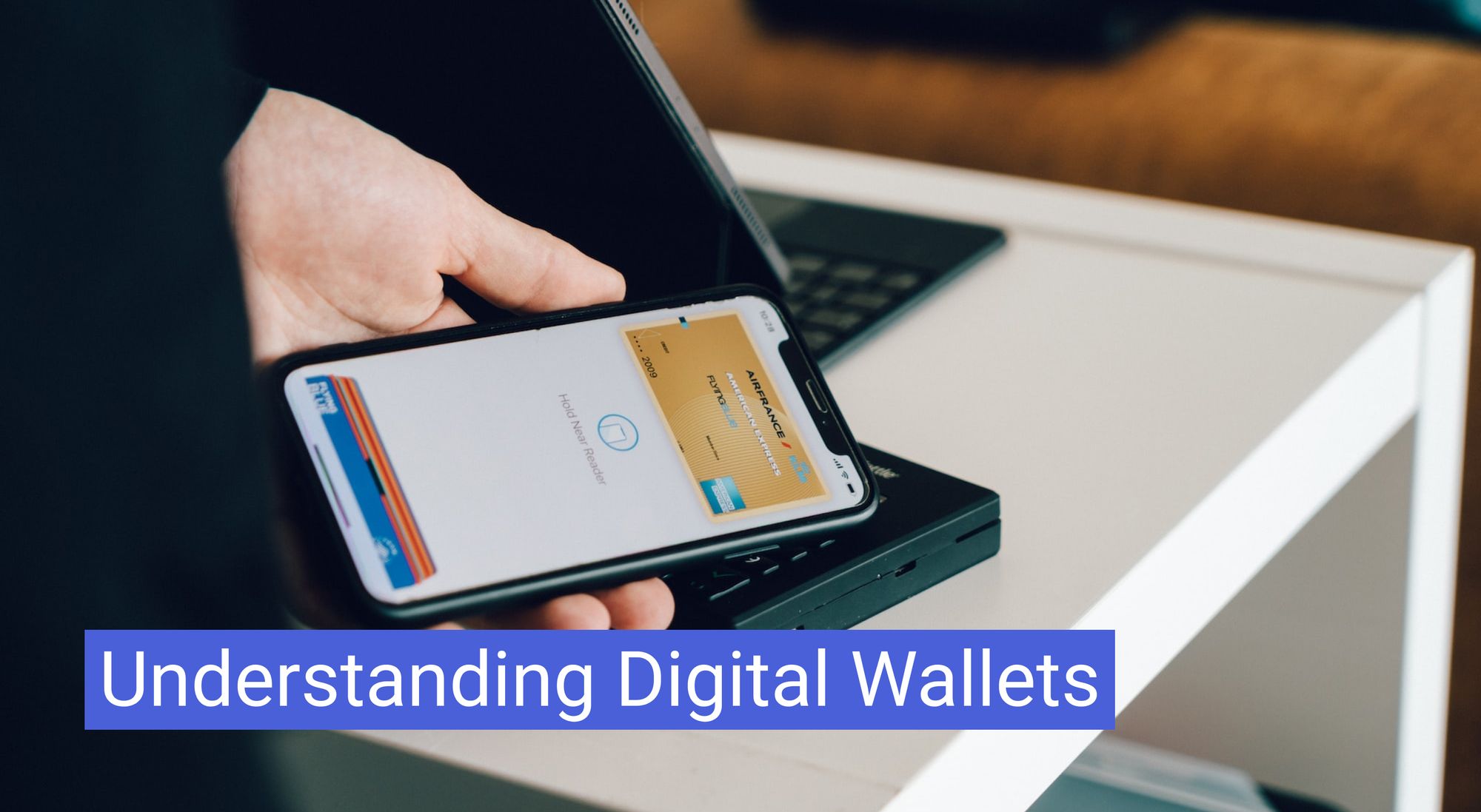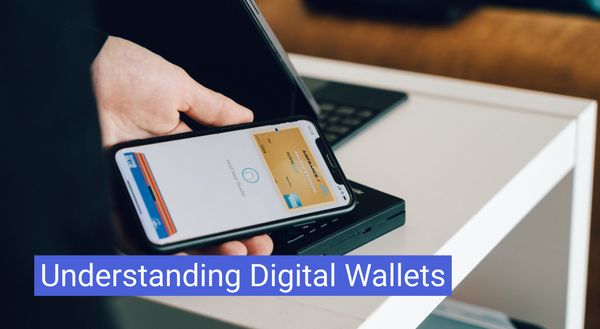 Digital Wallets, defined
Digital wallets, also known as e-wallets or mobile wallets, are an online payment tool that serves as an electronic version of a physical wallet. Digital wallets are used to store virtual versions of debit or credit cards, but they can also be used to store loyalty cards, cryptocurrency, boarding passes, event tickets and more. They exist most commonly as smartphone apps, but versions for desktops and tablets are also available.
How do digital wallets work?
Digital wallets employ several different technologies and security methods, such as tokenisation, to create an easy-to-use, digital and secure payments experience. Tokenisation is a strategy that encrypts card data and connects to the issuing banks when a transaction is triggered to create a token that is used for that specific purpose. No matter how a customer pays for the purpose (through mobile app, desktop, etc), the business does not receive any of the individual card information, just the token for the payment.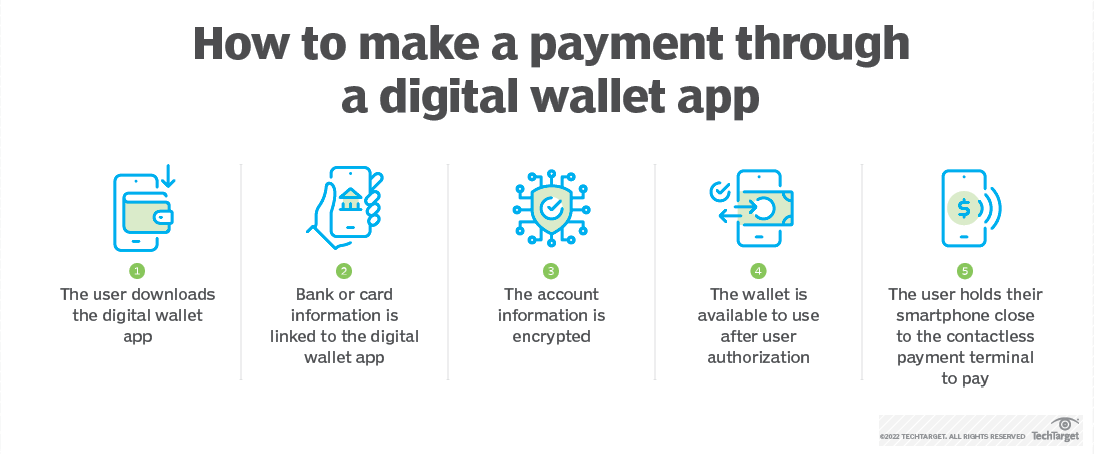 Source: Techtarget
To set up a digital wallet, the user enters their card information into the digital wallet or site. This information is encrypted and the wallet is available for use once the device is unlocked and the user authorises the wallet. To make a mobile payment, the user holds up their smartphone close to the contactless terminal.
Examples of digital wallets
There are plenty of digital wallet apps to choose from, but which one the user chooses comes down to which smartphone they have and their needs. ApplePay, for example, is only used with an iPhone and can't be used with an Android. Here's a look at some of the most popular digital wallets out there.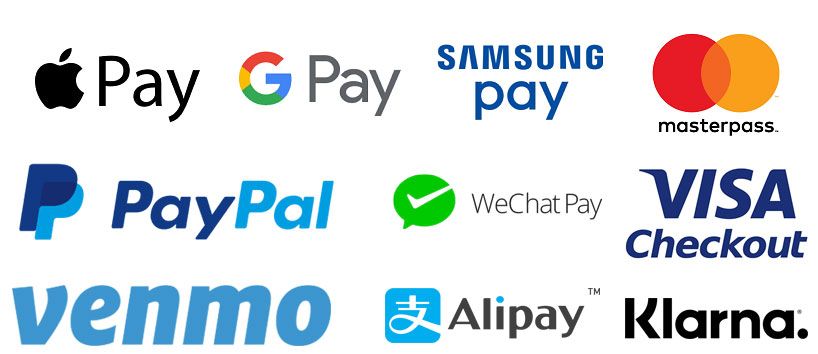 Source: Jilt
Are digital wallets safe?
In many ways, digital wallets are more secure than paying with physical cards. Here's why:
Both your phone and your digital wallet application are protected through various layers of security such as passcode, biometric fingerprint, face ID or swipe code.
Your actual payment data (credit card number, CCV code, bank account number, etc) is never visibly displayed when you make a payment with your digital wallet.
Payment data is encrypted, which ensures that your payment information never leaves your smartphone.
Your bank and credit card company have immediate visibility into your payment activity and can block payments if they suspect fraudlent activity.
The pros and cons of digital wallets
Pros
Convenience - paying for things in-person is faster and easier, and you don't need to deal with the hassle of carrying around cards or cash. For online purchases, the checkout process is streamlined thanks to save data entries, making for an overall better shopping experience.
Security - with the added protection of data encryption and tokenisation, digital wallets are a more secure alternative to cash or card. Sensitive payment information remains hidden and payment requires multiple levels of identity verification, both from the smartphone and the digital wallet itself.
Versatility - digital wallets can be used for a variety of payments, from in-store purchases, to transferring money to paying bills. They also serve as a great back-up in the event that you forget or lose your actual wallet.
Promotes Financial Inclusion - digital wallets do not require the user to have a physical bank account, which gives the unbanked and underbanked communities access to financial services
Cons
Single-point of reliance - digital wallets depend on your device, so if you lose your smartphone, or it runs out of battery, you will not have access to your payment methods
Security risks - digital wallets can become a security risk if you use one from a provider that isn't vetted or has an established reputation. Users who don't password-protect their device are also at risk of giving away sensitive data.
Digital Wallets: The Bottom Line
Digital wallets offer users a convenient and secure way to store multiple payment methods, tickets, gift cards and more. In 2021, In 2021, 43.2 percent of smartphone owners used mobile payments, and that number is projected to reach over 50 percent by 2025, according to market research company Insider Intelligence. While it may not be time to ditch your physical wallet just yet, the adoption of digital wallets is likely to increase as consumers and merchants become more comfortable with this method of payment.