PayPal charges between 2.8%-10.0% of your money for cross-border payments. We don't.
Poor exchange rates and hidden fees are costing PayPal users up to 10.0% to transfer money overseas.
With over 200 million active account holders PayPal is both a popular and convenient way to send and receive money and pay for online purchases.
And while it's true that PayPal is a great service for sending money to people who live in the same country as you, the same cannot be said for when you need to send money overseas.
But how can PayPal be good for some kinds of payments but not for others?
The simple reason is that PayPal charges extremely unfavourable exchange rates and high fees to transfer money abroad.
For domestic transfers, when payments are made to someone in the same country and there is no currency conversion involved, PayPal doesn't charge users any fees (unless they are paying with a debit or credit card). It is for this reason that many people assume that using Paypal for internatinal money transfers will also be fee-free.
This couldn't be further from the truth.
The Costs of Using PayPal for International Money Transfers
To say that PayPal's fee structure for overseas transfers is complicated would be an understatement. With 23 major headings, 20 tables and over 8,000 words it is extremely difficult to understand.
The essential takeaways are that PayPal stings users with three different costs: a cross-border transaction fee, an additional FIXED fee if you don't pay directly from your PayPal balance (eg if you use your debit or credit card) and a currency conversion fee, which is the margin they add on to the standard exchange rate.
Monito, a non-profit created to spread useful information about international money transfers, published this helpful infographic to explain the process involved when you use PayPal to send money abroad.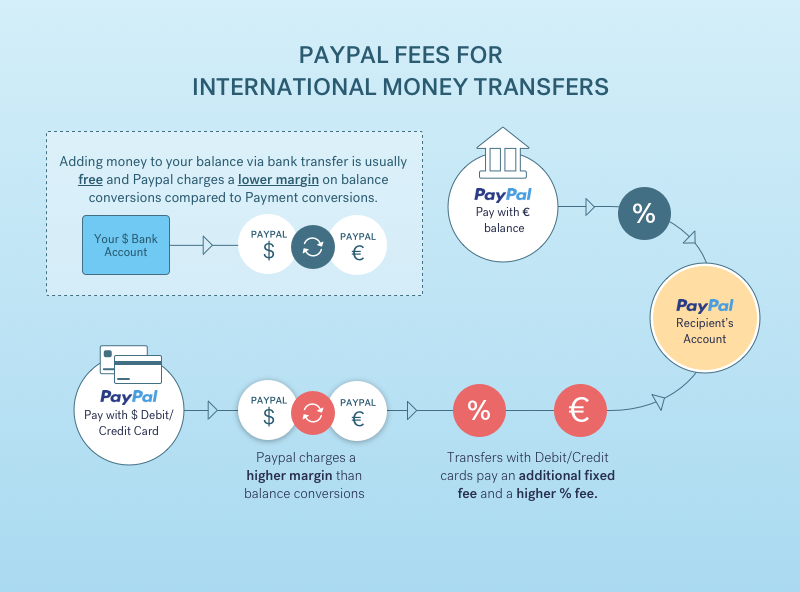 The cross-border transaction fees that PayPal levy can run anywhere from 0.5% to 7.5%. The fees vary depending on where the money is being sent from, the method of payment (debit card, credit card or PayPal account balance) and where you are sending money to. This is all buried somewhere in the fine print, so it's less than obvious how much you will pay in fees once you initiate a transfer with PayPal.
Keep in mind that because their fee structure is based on percentages, rather than fixed fees, the more you transfer the more you pay in fees.
PayPal also charges a FIXED fee of $0.30 if you don't pay directly from your PayPal balance. That means that if you don't immediately have all the money you want to send already in your PayPal account you'll be charged.
And then there is the currency conversion margin. Every time you convert money in your account balance between currencies PayPal charges you a hefty margin on the exchange rate. PayPal doesn't make it easy for you to know what the exchange rate margin is, and sometimes the only way to know is after the transaction is completed.
PayPal's website says that their exchange rate margins range between 2.5% and 4.5% for personal payments. The margin varies depending on the sender's country and the receiver's currency. But you won't know until the payment is made what sort of currency conversion rate you have received.

So as you can see, the costs associated with transferring money overseas using PayPal are significant. So much so that using PayPal is often WORSE than using your bank for an international payment. Banks are typically the most expensive way to send money abroad... so this is saying something!
Indeed, the total cost of a cross-border personal payment with PayPal is at least 2.8% of the total transfer amount, at best. Generally speaking users will pay much more than this. In the worst cases these charges could be as high as 10.0%. If you are sending A$10,000 overseas that is a whopping A$1,000 in fees!
Flash Payments Charges 1.5% for all International Money Transfers
Compare PayPal's ridiculous fees to the 1.5% that Flash Payments charges to send money overseas.
With no hidden fees or complicated fine print, Flash Payments makes it easy to understand the costs of transferring money aborad with them:
Zero Transaction Fees
1.5% exchange rate margin
Which option sounds better to you:
A 1.5% flat-fee for all international transfers, or 2.8% - 10.0%... with no ability to know the total cost until after the money transfer is completed?
Just because you have a PayPal account doesn't mean you should use it for personal international money transfers. Do your homework and you will realise that there are better options available. Flash Payments is one of them.