How much did your country send and receive in remittances?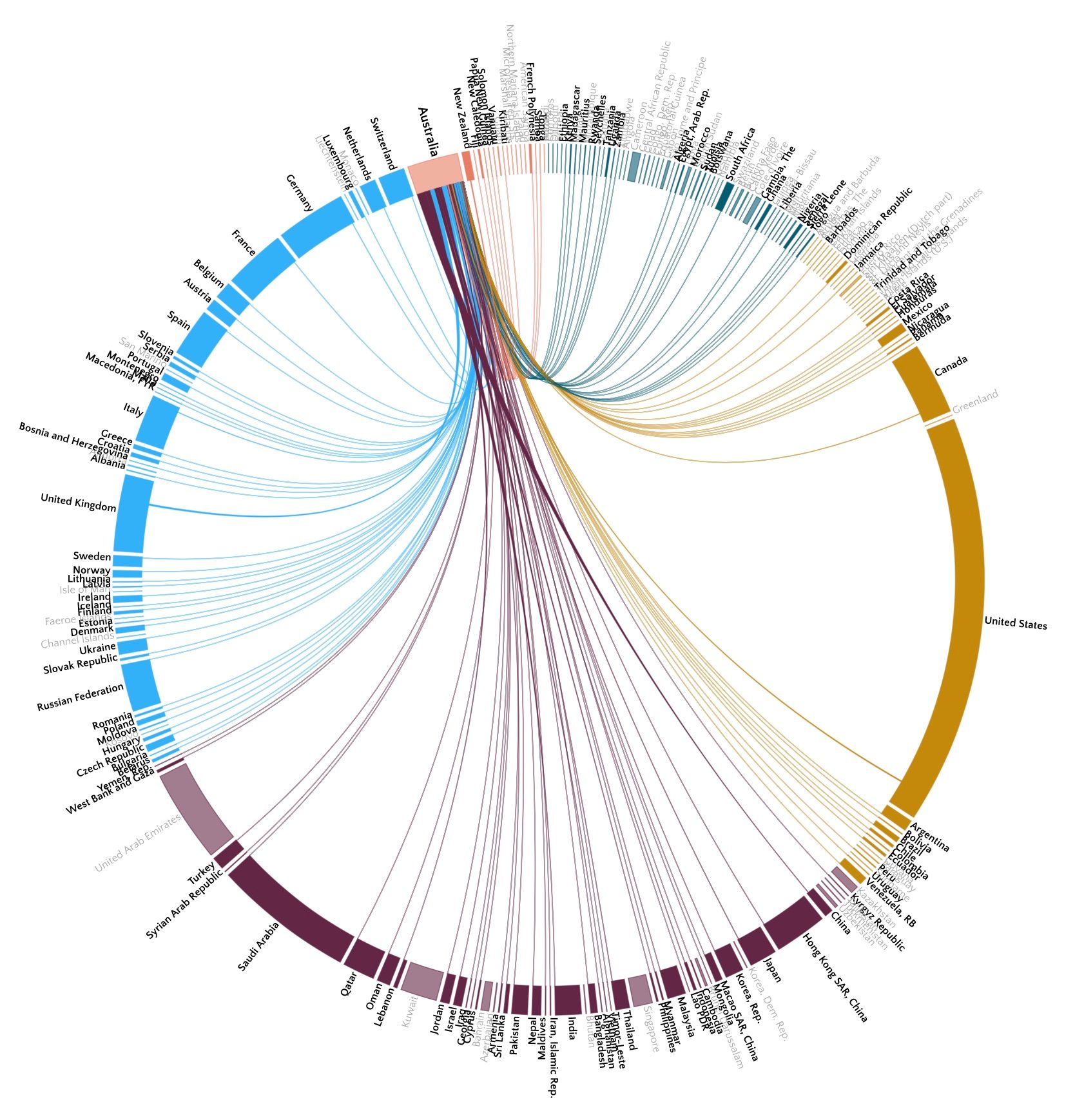 In 2015 Australia saw an outflow of remittances of US$16 billion, while it received around US$2 billion. Globally remittances totalled $582 billion according to World Bank figures.
The largest source of remittances is probably not unexpectedly the United States which saw over US$133 billion leave the country.
The largest recipient was India with nearly $70 billion in remittance receipts, ahead of China which saw inflows of $64 billion.
These cross-border payments make a huge impact in the countries that receive them. World Bank figures show that in 2015, remittances to Egypt were worth four times as much as revenues from the Suez Canal. In Nepal, they make up nearly one-third of total GDP.
Check out this interactive graphic and see how much was sent from each country and where to.
Over $400 billion flowed to low- or middle-income countries. In 27 countries, remittances were equal to more than 10 percent of gross domestic product (GDP) in 2014; in ten countries they were equal to more than 20 percent of GDP.
US President Trump's recent threat to tax remittances to Mexico caused significant anxiety among those initiating one of the world's largest remittance flows depressing the value of the Mexican currency and accelerating payments.
For banks, remittances are a significant source of revenues and profits, earning up to 5% on each transaction in fees and charges.
A growing group of fintech start-ups is starting to disrupt this industry by significantly reducing transactional costs, making the process easier and improving transparency and speed.
With over $500 billion in annual transfers, every percentage point saved puts another $5 billion into the pockets the migrants, the expats, the overseas student and their families. This is a significant amount by any standard.
One such company is Sydney based Flash Payments, a cutting edge fintech startup, engineered from the ground up to deliver intelligent foreign exchange transfer services, without hidden fees.
Flash Payments provides fast, secure and very competitive foreign exchange conversion services as an alternative to the existing opaque, siloed and inefficient banking networks.
Using the innovative Ripple technology platform and XRP, Ripple's digital currency, Flash Payments delivers extraordinary transparency, speed and transactional control to users.
Flash Payments is focused on delivering an exceptional user experience by delivering extraordinary user control built into the latest technology.
With Flash Payments users pick the date; pick the rate; send funds like an email; track transfers like a package; all without any surprise charges. There are none.
This is in stark contrast to the banks, where global payments cost more, take more time, and the routeing is opaque.
So, whether you are a business or an individual you can now skip the banks and take control of your foreign exchange transfers.
Learn more about Flash Payments to benefit from cutting-edge technology, great rates, transparency and control.