Investment and remittance opportunities for SMSFs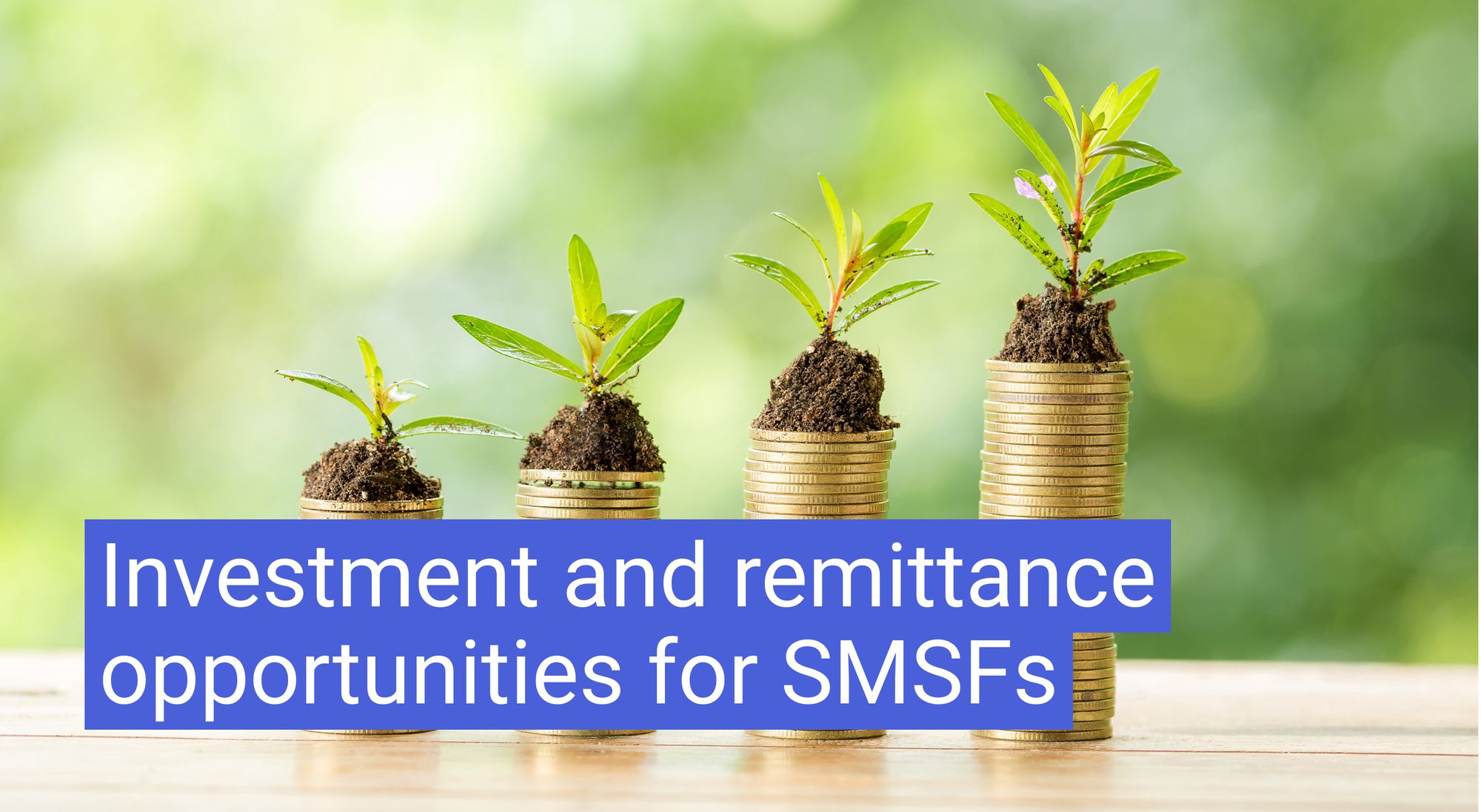 Over the past few years, more and more Australians have been transferring their retirement savings into Self-Managed Superfunds (SMSF). The number of those who want to control their superannuation has long exceeded the million mark.
There are advantages, for some, to be had with an SMSF. For starters, you have contol over the options in the investment fund, and this is a major advantage over using a traditional Superfund. When considering investment options, it's vital to keep your financial goals in mind, create a plan and consider the rules that are applied by the ATO, and seek advice.
More conservative assets can provide steady cash flow, while valuable assets such as stocks and commodities can help increase your savings many times over.
In this article, we'll briefly go over the investment options with Self-Managed Superfund and shouldn't be considered advice. We recommend getting financial advice from an Adviser, this can be an important step, you can find a licensed adviser in your area here.
Residential and Commercial Real Estate
This is an affordable type of investment if you incorporate it into your SMSF investment strategy. But there are a few rules to be aware of.
A residential property purchased through your SMSF may not be purchased from a related party of an SMSF member, nor may fund members live there or rent it. Your SMSF can purchase premises for your business, but only if you pay rent to your SMSF at the market rate.
Lenders usually allow self-managed super funds to borrow up to 80 percent of the value of the property, and they require the SMSF to have a company as trustee, not an individual.
It is also possible to invest in overseas property, we wrote about it in our article "Why do Australians buy Property Overseas". Investment in overseas real estate has become more attractive with Flash Payments, which in turn help with the movement of currency and often saving thousands on the transfer of funds. And this is not an unimportant factor - they offer fast, secure and easy transfers.
Australian and international stocks
According to the Australian Tax Office (ATO), listed stocks are the most popular asset class for SMSFs.
Investing in stocks can be very lucrative, but you need to do detailed research. This is a very important point, because without knowing the information, investments can be unsuccessful.
Starting with a diversified portfolio that includes different market sectors, such as banks and resource companies, can help spread risk.
Getting financial advice from an Adviser can be an important step, you can find a licenced adviser in your area here.
Cash and term deposits
In this case, you work with a term deposit, which gives you the opportunity to invest part of your retirement balance for a period of time and with a predetermined rate of return. Many banks provide term deposits specifically for self-managed super funds. This low-risk strategy allows you to earn more interest than most savings accounts, but as long as you don't withdraw money until the end of the term.
Fixed-income products
Bonds are a common type of fixed-income product that tends to be less volatile than stocks.
Bonds can be either corporate or government bonds. Government bonds are considered a safer investment because the likelihood of default is low.
Physical Commodities
This type of "real" assets can include a number of commodities, ranging from agricultural and energy products to precious metals (gold, silver).
Why are such commodities attractive for investment? Because they do not depend on stocks or bonds and are stable in times of rising inflation. Such investments are a kind of insurance against inflation.
Collectibles and Art
Works of art, jewelry, antiques, automobiles, coins, etc. fall into this category.
Participants cannot use collectibles. For example, a piece of art CANNOT be displayed in your home, but it can be rented out to a corporation or art bank. However, the market for these assets is not particularly stable, hence they carry stricter rules, fewer SMSFs are investing in this category for these reasons.
A number of international investment avenues involve transfers.
But for many SMSF Trustees, their experience has been sending money internationally, using their Bank is expensive slow and complicated. The good news is, in fact, it doesn't have to be that way. Clients of flash-payments.com have been making thousands of secure international transfers for many years, saving thousands of dollars on their usual bank transfers.
Why is Flash less expensive how can they offer this service?
In 2016 Flash were awarded the first Australian Digital Banking Licence (AFSL). This offers Flash Payments the same rights under an AFSL held by Australia's top 4 banks and many others.
The difference is really very simple - Flash let the technology do the heavy lifting, saving our customers time and money on every transaction. You can compare the rates on every transaction before you make it - we don't hide fees and there are no hidden charges - check it out https://flash-payments.com/